Paramedic PUSM Shadhupara Base Clinic Manikchari, Dist. Khagrachari, CHT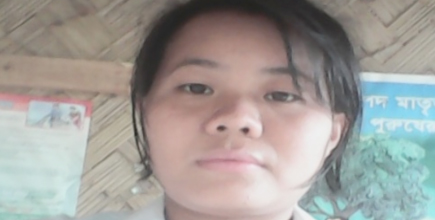 I have acquired lot of experiences working in PUSM project. Of them some are good and some are bad. I never had experience talking to people in-group meeting. I found it very challenging to conduct meeting with people who speak their own dialect only. So I started to learn and speak their language instead of Bengali language. It took a lot of efforts to learn their language. Now I can speak and communicate with them in their language. My ability to speak their language help me to understand the people and impart training and disseminate information on women reproductive health.
I along with my colleague run the Base Clinic. Many people come to us for health services including treatment of diseases. Among them are pregnant women. I made lot of experience in attending women in labor. I have learned how to manage patient with PPH (Post Partum Hemorrhage). In one instance a mother delivered a baby who was crying following birth. I tried with different routines but of no avail. Finally I resorted to mouth-to-mouth breathing. It worked and the baby started crying. The baby's grandmother was so excited that shed lunged forward and hugged me. It was a wonderful experience. One of my responsibilities is to identify pregnant women needing referral and make arrangement for her treatment in government hospital. I can do it and other duties of running base clinic properly. I enjoy my job very much.