Paramedic PUSM Manikchandra Para Base Clinic Ramgor, Dist. Khagrachari, CHT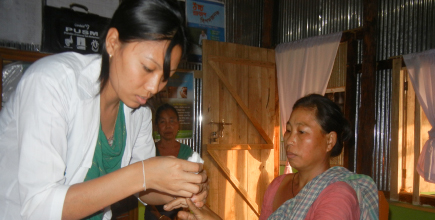 It was raining all the day from morning to evening. I was pondering how to go for field visit next day. However next day morning was very nice and sunny. I got myself prepared and set off for Jamini, one of many hamlets under PUSM project.
Ms. Prova Rani Rowaza, Para Health Worker joined me on my way. We walked for quite sometimes before we reached a brook. We waded through river and water was waist high. Reaching on the other side of the river I came across 3 to 4 dug holes on the sandy shore. When asked about the holes, Ms. Rowaza told me that there was no tube-well in that area. So, people collect drinking water from the dug holes. Because of rocky bed it is not feasible to sink tube-well in the area.
When we finally arrived to our destination, we met many women and men in courtyard meeting. While trying to assess on their knowledge about women reproductive health particularly that of adolescent girls, I found that they don't understand the common Bengali language. So I had to speak their dialect, which is derived from Bengali language. I quickly learned their dialect and could continue with our discussion. It was a good learning and never had any problem communicating with them since then.
It is very remote area and the people are deprived of their rights to education, health and other services. The people have to cross the river on foot or on raft made of banana trunk in order to go to nearest Guimara Bazar during rainy season. It is a life full of risk and hardship.
I have come to learn lot of things after joining Pidim Foundation. I have learned how to operate Base Clinic. Living in the neighborhood, mingling with the people and make them aware about women reproductive health are quite unique experience. It makes my stay more meaningful when I aid deliver baby and treat patients in the Base Clinic in absence of a doctor. It surprises me when I see the people smiling amid so much of trouble and sufferings. I have learned how to adjust in a new environment and it is the most important experience of my life.