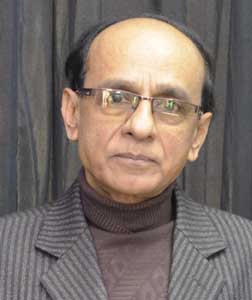 Advin Barun Banerjee
Executive Director
This report narrates achievements and issues that impacted on the performance of microfinance program of Pidim Foundation. Access to bank loan made it possible to increase the portfolio (principal outstanding) of the program significantly within short period of time. However the pace was slowed down in the second half of the f/y 2017-18 when whole banking sector caught up in turmoil. This impacted negatively on the overall performance of most of the Micro Finance Institutions including Pidim Foundation. Sudden contraction of bank financing affected loan disbursement in the field and caused uncertainty and hampered in building trust with the group members. This in turn affected loan recovery and maintaining group discipline to some extent.
Pidim strived to keep the situation under its control through beefing up monitoring and supervision, adapting it policies in the light of changing situation, imparting training and raising staff salary and benefit package. Because of the complexity and convoluted working environment many field workers and their immediate supervisors quitted jobs after failing to discharge their duties properly. Pidim also discharged staff for negligence of duties and corruption. This led to hiring of staff every now and then. The new recruits came from different backgrounds and experience. The tasks of training and reorienting them needed lot of patience and skills. Pidim reorganized its training cell to do the job. As a result the staff turnover rate slightly decreased compared to previous year. One of the areas where Pidim could make headway is online data management. Pidim introduced TAB in two branch offices on experimental basis. Using TAB field staff could feed data on transaction of money with group members, directly to the Central Server bypassing hand-writing of collection sheet. It helped save time and bring transparency in data management system. Besides Pidim worked closely with Grameen Communication (owner of g-Banker software being used by Pidim) and HISHAB, a IT Company to integrate 'Voice Based Data' entry options into the g-Banker. It has passed the initial test and will be put into practice in the field soon. Using this options field staff will be able to enter data into Central Server vocally through mobile apps. Using mobile apps the Group members will also be able to hear balance of their accounts with Pidim. Voice based data entry and exchange procedures will greatly enhance organizational capacity to manage microfinance program.
The f/y 2017-18 was also significant for operation of Low Income Community Housing Support (LICHS) project. It was designed and put up for implementation as pilot project by PKSF with financial support from World Bank. It aims at improved housing for poor and marginal city dwellers by providing loan with 12% interest rate p.a. calculated by declining balance method. The tenure of the loan varies from 3 to 5 years. Pidim joined PKSF for implementation of the project in the area under Narsingdi Municipality of district Narsingdi. The market for housing loan is huge and hopefully hundreds and thousands of people will be benefited from the project in the future. Moreover Pidim joined PACE (Promoting Agricultural Commercialization and Enterprise) project of PKSF. It was selected for promotion of Hosiery products under the project. Pidim has been financing this sector for quite sometimes. Hosiery contributes to a great extent to local economy in the Bandar Upazila of Narayangang district. Many people involved in Hosiery production took loan from Pidim and progressed well in their business. Pidim is currently working for development of this sector with the help of PKSF. A video of hosiery products of different types has been made. The products will be displayed on-line through a platform created and supported by a marketing company. It will be a great benefit to the producers of hosiery products.
In-spite of the setback mentioned earlier Pidim could manage its microfinance program well and generate net income more than previous year. Premier Credit Rating Agency in Bangladesh, founder member of Association of Credit Rating Agencies in Asia (ACRAA), Manila, Philippines performed Entity (Pidim Foundation) Rating on July 23, 2018. The rating score was A­, same as last f/y. This indicates that the microfinance performance did not decline amid fund crisis. Pidim will use its learning from f/y 2017-18 to steer its microfinance program in the coming months. It will also strategize its activities with prudence and tenacity to sustain its microfinance program.